On May 11, 2022, Airbnb announced its latest updates to the platform, promising "a new Airbnb for a new world of travel." The updates noted in the Airbnb 2022 Summer Release allow users to discover millions of new listings, split trips between locations, and offer what Airbnb refers to as "the most comprehensive protection in travel".
While the changes may appear inconsequential on the surface, they are a clear response to the monumental shift in the way guests engage in the booking process, offering options for longer stays and a streamlined process for booking extended stays to multiple destinations.
Airbnb Categories. The first update focuses on broadening the perspectives of travelers in the discovery stage. This development promises to drive bookings outside of established destination locations, using categories such as amazing views, bed and breakfasts (!), creative spaces, design, iconic cities, tiny houses, and more, to challenge users to book properties that were not otherwise on their radar.
According to the press release, "Airbnb Categories organize homes by what makes them unique, which helps people discover places they wouldn't have otherwise found. This can help alleviate over-tourism by redistributing travel to new locations beyond the same popular destinations."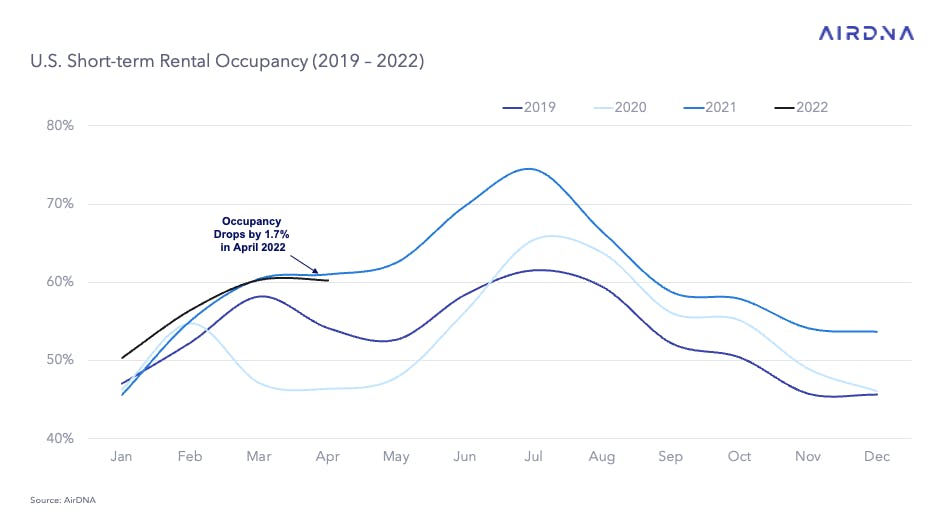 AirDNA's April 2022 Market Review notes that demand is up 25% over 2019, Average Daily Rates (ADRs) are up 33.9% over 2019, and Revenue is up 67.4% over 2019. While occupancy is the one statistic that is down, this has been linked to an increase in the nightly supply of rentals in destination/resort markets and small cities, not from systematic weakness in demand. At the same time, inventory is clearly limited in markets, with many owners of vacation rentals using them more frequently. This is a clear case of keeping the consumer's gaze fixed on the platform to protect and nurture the company's revenue stream.
Split Stays encourage guests to "discover more" of a particular market or region. This feature was clearly data-driven, with Airbnb noting that "in the last three months, nearly half of nights booked on Airbnb were for trips of a week or more." This nudge, which is also driven by the new Airbnb Categories, seeks to inspire longer travel.
In reading this segment, I was reminded of the growing appeal of "146 Routes du Bonheur, itineraries to discover the world", the concierge and benefit-driven program of Relais & Chateaux. One of these itineraries, "New Englands Most Beautiful Spots", transports guests from Bedford, New York, through the Connecticut countryside, up to Woodstock, Vermont, and concludes with sea views and fine dining at Castle Hill Inn. Like member Inns, Innkeepers all have different tastes, standards, and styles, and our individual "Roads to Happiness" should be discussed with like-minded professionals and Innkeepers. Maybe there is an opportunity for collaboration before the journey ends.
AirCover is Airbnb's "comprehensive protection included for free with every booking." Without getting into the details (there aren't many) or sparking a heated debate around the merits of the program, it is enough to state that AirCover is a catch-all confidence booster with the desired effect of driving bookings heading into the summer season.
According to the release, the package protects guests from last-minute host cancellations, misrepresented accommodations, the inability to check in to your hosting property, and access to a 24-hour safety line "if you ever feel unsafe." While these are very reasonable and welcome protections, it's important to note that protections are often (always?) created in response to clear and present danger, not as a preemptive act.
These musings are not meant as a criticism of what has effectively become the world's largest hospitality collection (with over 7 million listings worldwide), but rather as a recognition of the way that tech companies are analyzing consumer habits and harnessing that knowledge to shape the future of travel.
While consumer spending was up approximately 1% in April driven by demand and inflation, a review of 2022 financials across hospitality segments shows continued growth over previous years, but, in most cases, stabilization from the heights of 2021. The current climate has kept this James Garfield quote top of mind in recent months:
"I have seen the sea lashed into fury and tossed into spray, and its grandeur moves the soul of the dullest man; but I remember that it is not the billows, but the calm level of the sea from which all heights and depths are measured." 
Happy Memorial Day to all and best wishes for busting bank accounts as we continue our march through 2022!
Eben Viens