Marketing
Musings on the Airbnb 2022 Summer Release
On May 11, 2022, Airbnb announced its latest updates to the platform, promising "a new Airbnb for a new world of travel." The updates noted in the Airbnb 2022 Summer Release allow users to discover millions of new listings, split trips between locations, and offer what Airbnb refers to as "the most comprehensive protection in travel".
While the changes may appear inconsequential on the surface, they are a clear response to the monumental shift in the way guests engage in the booking process, offering options for longer stays and a streamlined process for booking extended stays to multiple destinations.
Airbnb Categories. The first update focuses on broadening the perspectives of travelers in the discovery stage. This development promises to drive bookings outside of established destination locations, using categories such as amazing views, bed and breakfasts (!), creative spaces, design, iconic cities, tiny houses, and more, to challenge users to book properties that were not otherwise on their radar.
According to the press release, "Airbnb Categories organize homes by what makes them unique, which helps people discover places they wouldn't have otherwise found. This can help alleviate over-tourism by redistributing travel to new locations beyond the same popular destinations."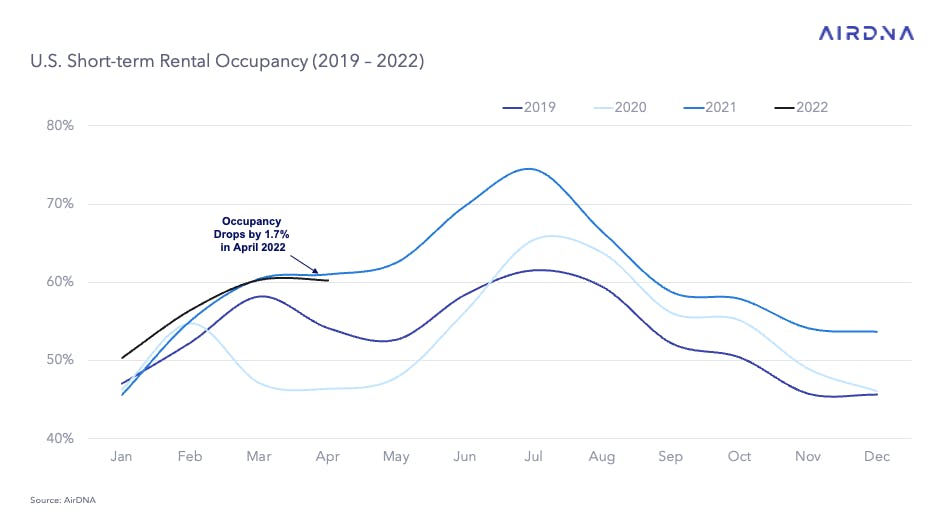 AirDNA's April 2022 Market Review notes that demand is up 25% over 2019, Average Daily Rates (ADRs) are up 33.9% over 2019, and Revenue is up 67.4% over 2019. While occupancy is the one statistic that is down, this has been linked to an increase in the nightly supply of rentals in destination/resort markets and small cities, not from systematic weakness in demand. At the same time, inventory is clearly limited in markets, with many owners of vacation rentals using them more frequently. This is a clear case of keeping the consumer's gaze fixed on the platform to protect and nurture the company's revenue stream.
Split Stays encourage guests to "discover more" of a particular market or region. This feature was clearly data-driven, with Airbnb noting that "in the last three months, nearly half of nights booked on Airbnb were for trips of a week or more." This nudge, which is also driven by the new Airbnb Categories, seeks to inspire longer travel.
In reading this segment, I was reminded of the growing appeal of "146 Routes du Bonheur, itineraries to discover the world", the concierge and benefit-driven program of Relais & Chateaux. One of these itineraries, "New Englands Most Beautiful Spots", transports guests from Bedford, New York, through the Connecticut countryside, up to Woodstock, Vermont, and concludes with sea views and fine dining at Castle Hill Inn. Like member Inns, Innkeepers all have different tastes, standards, and styles, and our individual "Roads to Happiness" should be discussed with like-minded professionals and Innkeepers. Maybe there is an opportunity for collaboration before the journey ends.
AirCover is Airbnb's "comprehensive protection included for free with every booking." Without getting into the details (there aren't many) or sparking a heated debate around the merits of the program, it is enough to state that AirCover is a catch-all confidence booster with the desired effect of driving bookings heading into the summer season.
According to the release, the package protects guests from last-minute host cancellations, misrepresented accommodations, the inability to check in to your hosting property, and access to a 24-hour safety line "if you ever feel unsafe." While these are very reasonable and welcome protections, it's important to note that protections are often (always?) created in response to clear and present danger, not as a preemptive act.
These musings are not meant as a criticism of what has effectively become the world's largest hospitality collection (with over 7 million listings worldwide), but rather as a recognition of the way that tech companies are analyzing consumer habits and harnessing that knowledge to shape the future of travel.
While consumer spending was up approximately 1% in April driven by demand and inflation, a review of 2022 financials across hospitality segments shows continued growth over previous years, but, in most cases, stabilization from the heights of 2021. The current climate has kept this James Garfield quote top of mind in recent months:
"I have seen the sea lashed into fury and tossed into spray, and its grandeur moves the soul of the dullest man; but I remember that it is not the billows, but the calm level of the sea from which all heights and depths are measured." 
Happy Memorial Day to all and best wishes for busting bank accounts as we continue our march through 2022!
Eben Viens
Innkeeper's Daily Grind
One of my favorite monthly newsletters I receive is from Adam Grant. American psychologist and author who is currently a professor at the Wharton School of the University of Pennsylvania specializing in organizational psychology.
Granted May 2018  "To understand success, pay less attention to the final product and more to the mundane process. It's way more fun to read Harry Potter than it would be to watch J.K. Rowling write. And I can only imagine how dull it would be to sit in a library and watch Lin-Manuel Miranda reading books about Hamilton.
But the seeds of greatness are planted in the daily grind."
Innkeeper's  daily grind ? You can relate to this.  Take breakfast as an example. Most guests would rather be presented with a well prepped, well prepared, beautifully presented plate than get up with you at the crack of dawn or late evening and watch a blurry eyed innkeeper with whisk in hand.
Stripping wallpaper or watching paint dry, another good one.
Sometimes the final product does not have anything to do with your décor or your breakfast table. It is another process that at times is mundane and a grind but oh so very important to your success.
Marketing
A good, well researched, well designed, well optimized website takes hospitality industry experts multiple 'daily grind' hours to complete the 'guts' of the site. A good site looks and more importantly works the way it should.  So worth it for your inn's success.
"The more professional your website is, the more advantages you can gain." Acorn Internet Services, Inc. 
New innkeepers often focus first on much needed repairs, room upgrades, new amenities and new and innovative breakfasts. These are satisfying accomplishments, especially when guests see the final product and give you kudos (maybe not the new boiler in the basement, unless you like to take your guests down and show off your basement improvemets?)
But … you make all those improvements to your brick and mortar yet your website is five or more years old and tired…STOP… don't ignore or put off this improvement. And pleeeease don't skimp and take the easy (cheap) non industry professional bargain basement route with your website, it will get you nowhere. Take the time and expense to market your new baby. Your website and social media tools are available to educate and engage your potential guests.  And guess what?  Your online presence is available to your guests 24/7/365, unlike you who needs sleep!
To help you take the correct route, The B&B Team's Industry Referrals page has a list of our industry's internet marketing professionals.
Your innkeeper's daily grind can plant seeds of greatness. It is so satisfying to see them grow.  Especially when you take the time and expense of engaging marketing professionals to help you market your greatness, 24/7/365.
Thanks for Listening… and get some sleep while your website works for you,
Janet Wolf
We are a Mobile Society
We are a mobile society. There can't be any doubt in anyone's mind about this statement. Now how about this statement…"According to Google, 1/3 of people with a smartphone would give up sex instead of their phone. Sad." This comes from Frederic Gonzalo's key takeaways from the 2015 edition of Online Marketing Strategies in Travel. More on his takes later.
Now what I think is that this group of 1/3 very sad people should book rooms (on their mobile device of course) in a romantic B&B, leave their phones, I-Pads etc. safely locked away with the innkeeper and enjoy! What do you think?
But seriously.  Google's statement is made to show how attached folks are to mobile and the convenience it provides. The more we as a society conduct business online at home, office or on our smartphones the less we need or want to actually talk or…with anyone. Just in case there are some doubters out there, here are some stats Frederic Gonzalo gleamed from the conference.
69% of travelers begin their search online…via a mobile device!
Of the average 6 daily hours US adults spend on digital media, 3 hours is on mobile.
You lose 25-60% of visitors with each click in the path to purchase on mobile.
92% of visitors to a website will never return. Thus marketing is key!
There are 11 more of these interesting stats in his blog if you want to learn more. The one about sex is number 15, just to let you know I did not make this one up!
Of course it is not just for travel business that we use our online devices. Our local bank in Kennebunk Maine has let me share some of their interesting stats on how their customers are doing business.
Of the over 39 million total transactions made in one year, just a little over 2 million were teller transactions.
The remainder were internet (over 17 million), ATM (4 million), Debit Card (10 million), and ACH which is direct deposit, payroll and vendor payments (2 ½ million).
2,157,657 were mobile transactions with $12.6 million mobile deposits.
Wow.
I thank Kennebunk Savings for allowing me to publish these stats.
Mobile business will continue to become more prevalent, there is no doubt. Your online marketing strategies must reflect this continuing trend. Does this mean that the personal transactions with your friendly local teller or innkeeper are less important? No. I believe they are even more important. Why? Because when something goes wrong with technology (and it will) the personal touchy feely is what will we all want and need.
Innkeepers are best at providing that personal customer service because they never lose sight of  their guest's wants and needs. Right? And what is one of those wants and needs?
A good up to date and user friendly responsive website.
Thanks for Listening,
Janet Wolf
New Generation of Travelers-Age or Mindset?
Sitting at an airport, reading the March issue of Business Traveler and found an article entitled 'More Than a Bed'. This got my attention. Harvey Chipkin, the author of this article states; "A booming lodging industry is in the midst of a diversification whirlwind as it targets a new generation of travelers that might be defined by age, mindset or craving for experience." The B&B Team has blogged, posted articles and spoken at conferences on this subject of the 'new generation of travelers.' This booming lodging industry includes B&B, small hotels, boutique motels, the entire gamut of the choices offered by the independent small lodging industry. Are we giving these new travelers what they are craving?
Mr. Chipkin goes on to say that the sameness in hotels has become a negative. Our Inns certainly do not have 'sameness'. And the experience and the emotional connection with our guests is what we are all about. The hotel industry is working hard and fast to create uniqueness in their décor, more personalized service and offering experiences. They are creating their 'lifestyle' brands at a rapid pace. Our industry cannot afford to stand still and watch.
So what can we do to compete and keep up with this whirlwind?
Keep up with technology. That can include a fresh website that is optimized and responsive. Ease of booking on mobile site is a must. Places to plug in, guest rooms as well as common rooms. Many travelers want or need to be connected at all times for business even while on vacation!
Social Media. It is important to be involved with as many sites as possible. If you are engaged than you appear relevant. Don't skimp on your marketing budget, you know the big guys aren't.
Update your décor. The old mindset that a B&B is like staying in your grandma's house is still out there. We must work hard and fast to squelch that mindset.
Keep an open mind. The explosion of the sharing economy like Airbnb is here and not going away. Many millennials will go to Airbnb to book their lodging. They may not go on or even know about the traditional B&B booking sites. Something to think about. Bashar Wali, president of Provenance Hotels, a small group of boutique hotels, "Airbnb is here to stay; it forces us to be better and offer local authentic experiences."
Food is huge. Lighter fare options for breakfast, grab n go for the early riser, afternoon small plates or small bites that are creative and a wow. Liquor license for wine, beer tastings or signature cocktails, why not.
Stay connected. Association of Independent Hospitality Professionals mission statement is to "…support independent hospitality professionals to succeed beyond their expectation." The group of supporters  is growing. Advocacy, education and networking will be the focus. We all need that.
So is it age or mindset? Yes we want to attract the millennial, they are our next large demographic of traveler. But the older traveler who wants to feel young, that is the mindset. Love this quote from the article; "We all want to feel that we're still hip, we're still in. And we're talking about people in their 40's, 50's and 60's". That's me, how about you?
Thanks for Listening,
Janet Wolf
Innkeeper Hospitality Items
Most thoughtful innkeepers have innkeeper hospitality items on hand for emergencies, for guest (and innkeepers) convenience or to sell in their gift shop. "If one guest asks for something, you know more will." Quote from a very wise innkeeper, Terry Hammer of the Hermann Hill Inn, MO.  A cheese board was placed in every guest room at Hermann Hill after one guest requested one. Now is that thoughtful, you bet.
Budget Travel always has fun and interesting articles. Here's a good one with The B&B Team's spin.
8 Nifty Little Items You Never Pack…But Should.
The spin…8 nifty little items innkeepers should consider having on hand because your guests don't pack them.
Here is Budget Travels list.
#1 Power Strip.  All your guest rooms have them, right? May be wise to stock a few extras.  Belkin Mini Surge Protector with USB Charger is only $12.
#2 Bandanna. Don't quite get the reason for this item. But you never know when one of your cowboy or biker guests may have left theirs at home!
#3 Duct Tape. I know innkeepers have this on hand for quick repairs. The colored and designer selections are fun. Go for it. (maybe you can get some with your logo?) Hey, why not.
#4 Travel Mug. I know some innkeepers that have logoed ones.  Great idea and eco-friendly. dnj Specialties have a variety. You can even see how your logo will appear. Fun.
#5 Moist Towelettes. Great for guests going on day trips, picnics, boat excursions, you name it. The Shout Wipes for stain protection are also good.
#6 Silicone Travel Bottles. TSA-approved mini bottles. These are the best, they don't leak and oh so easy to squeeze!
#7 Safety Pins.  A no brainer. Gotta have these.
#8 Tote Bag. Great to logo also. Shown here is a Baggu resusable bag. Guests take it home and reuse it at the grocery store. Have logo, will travel. Baggu will screen print your logo.
Thoughtful Innkeeper hospitality items to have on hand. The list could be endless. Find your own signature item and promote it.  Hope this has provided some thoughtful suggestions.
Thanks for Listening,
Janet Wolf
Spring Break 2014
Spring break 2014 is almost here. Kids may be planning trips to warmer climes but what about your stressed and time deprived adult guests? They need their own spring break 2014 and what better place than at your Inn.
Most of us (The B&B Team included!) have had a really long and more trying then usual winter. Before that first crocus pops through the snow let your loyal return and potential new guests know what you have in store for them. Don't wait too long. Most folks I know are craving warmer weather and will want to plan something NOW to look forward to.
Here is what the Hermann Hill Inn in Hermann Missouri has proposed.
"The spring season is upon us, and our guests tell us it's a perfect time to reconnect with each other and all that Hermann Hill has to offer. We always strive to provide our guests the amenities to create lasting memories. We love to hear from our guests about their experiences while staying at Hermann Hill and want to help create these memories for all guests! In 2014 we are asking guests to tell us the things they did while staying at Hermann Hill and the memorable times they shared together! We plan to share these moments with all of our guests in hopes of creating new memories that can be enjoyed together for years to come. Each month in 2014 we will choose two winners to win a $100 gift certificate."
This offering by the Hermann Hill Inn is a year long, ongoing special  But… I just saw it on their most recent blog posting. They make it current by posting the most recent winners comments. These comments are current, real, first hand experiences. Reading them makes the experience come to life and encourages readers to book and make their own memories. Brilliant!
Most Inns have romance packages that may include spa treatments, gift certificates for dinner, breakfast in bed and chocolates, flowers. The list goes on. Whether they are packaged together or add-ons, these offerings are great. They are expected at a B&B. But did you notice that Hermann Hill wasn't offering anything more than what they give their guests 24/7, 365 days. Which is pretty fabulous by the way! What they are offering is the opportunity to win a $100 gift certificate that will give the guests an incentive to return and the Inn a return visit. Again, brilliant.
This kind of incentive package can be enjoyed any time of year. Stay in, reconnect and rejuvenate, get out for a bit then back to the cocoon. So anytime of year may be the perfect time but… spring is upon us. So get your word out now. You have great rooms, great breakfasts, luxury amenities, interesting things to do in your area. So many reasons to stay and take that B&B Spring Break 2014.
Thanks for Listening,
Janet Wolf
Norumbega Inn – Open for Business
The Norumbega Inn in Camden Maine is now receiving guests. The transfer of this grand 'Stone Castle by the Sea' bed and breakfast to Susan Walser and Chef Phil Crispo took place just a few months ago.
After a lot of cleaning, scraping, wall removals, landscaping and just general sweat equity the Inn opened to paying guests on Memorial Day weekend. The B&B Team was pleased to be a part of this transfer and we could not be more thrilled! Quoting directly from Sue and Phil, "We are proud and honored to renovate the castle, bringing its heart and soul back to life." Sue brings her extensive business and marketing skills to Camden and Phil was recently an instructor with the Culinary Institute of America in Hyde Park New York. He brings many more past accolades and culinary experience to the table and the future looks bright with their passion for food and this lodging property extraordinaire.
The culinary travel draw for the Norumbega Inn will be huge. Sue and Phil will  initially offer dinner for inn guests and breakfasts to awake your soul but will soon expand with the offering of cooking classes and special catered events . All of which will 'Complete the Package'. By the way this is Phil's quote. We liked it so much we wrote it down on a card and it sits on Rick's desk.
This does not literally mean, wrapping up a gift in a box  and tying it with a pretty bow, but it does mean this figuratively. The total package starts at the time a guest is greeted at your Inn and presented with your package.  They open and view the contents then savor it, gather all the contents together and take it home with complete satisfaction and gratitude. That total package, lodging, dining with great service and attention to every last detail should be a WOW from beginning to end. That 'completes the package'. The B&B Team hopes that many of you will be able to visit Sue and Phil and experience the complete package that awaits every guest at the Norumbega Inn.
Every day presents itself with the opportunity to create and present another beautiful package to your guests. What a gift that is.
Thanks for Listening
Janet Wolf
A Rebirth of 'Maine's Castle By The Sea'
Take the Fear Out of Learning Innkeeping
The Class of 2012, Bloomsburg, Pennsylvania, graduated from the "Better Way to Learn Innkeeping" aspiring innkeeping workshop yesterday.  Held at The Inn at Turkey Hill, six attendees spent 3 days at this seminar designed to help those with the innkeeping dream to investigate the path to inn ownership which is often laden with speed bumps, roadblocks and u-turns.
A different mix of attendees, however.  Two of the couples already own the property for their inn (one was purchased recently with the purpose of conversion to an inn and the other couple intend to turn their existing home into an inn).  A third couple were the more traditional attendees who intend to purchase an existing inn.
Because of this different mix which included folks about ready to open their inns, we adapted the typical agenda to also include a more intensive focus on the operations and marketing aspects…info these innkeepers will be using soon.
A thanks to Andrew Pruden, owner and innkeeper at The Inn and the great staff for their service and welcome.  If you get a chance to visit Bloomsburg, the recently opened Pub and Grille was fabulous and their  micro-brews and menu were a welcome Friday night treat.
Lots of laughs…lots of strong interaction…and lots of appreciated feedback on the effectiveness of the workshop.  But one attendee made a comment that I am still thinking about a few days later.  "I'm not afraid anymore, Scott".  I think this just became another goal of these workshops for me.    Scott
B is for Better Way to Stay…for Business Travellers
Transparency, Honesty and Value. These are the key words that describe what today's business traveller wants from their lodging choice. This comes directly from a recent article titled; "Hotels try harder to woo business customers' These three words best describe what top producing bed and breakfast innkeepers strive hard to provide for their guests, leisure travellers as well as business. B&B's have never (to my knowledge) thrown in hidden charges, what you see is what you get!
Attracting more Sunday through Thursday business customers has been a continuing challenge for bed and breakfasts. B&B's are often viewed primarily as the 'romantic getaway' venue. The urban inns are the 'no brainer' locations for the business customer. For the more remote country B&B's, you may not have a lot of large corporations or business centers near you that bring travellers to your area. But there may be smaller businesses, colleges, and hospitals in these more isolated areas. Personal calls and face to face 'greet and meets' are essential. If they don't seem receptive at first, don't give up. Be persistent. Show and tell them the advantages you provide for the business guest. Go out of your way to be more accommodating than the chain properties in your area. Do your homework, find out what your competition offers and offer more value. We know as an industry we are transparent and honest so we must work on the value.
I love lists! Read on.
Marketing Essentials:
Mobile Marketing – It is crucial to transform your website into a mobile friendly version. Companies like Show Me Inn will do the work for you and you will get results. Mary White of BnBfinder used this company for her mobile site and recommends them highly. Here is a quote from another satisfied customer: "As a travel-oriented business, it's important to reach customers on the move. My Show Me Inn website provides directions and an easy phone link to my business – which brings guests to my door," says Paul Breitenbach, Innkeeper at the Jacob Rohrbach Inn in Sharpsburg, Maryland.
SEO – Make sure they can find you easily. Your website must be optimized to help promote your business friendly services and packages to your target market and geographic area. Provide all those helpful links to make their planning seamless.
Social Media – Make Facebook and traveller review websites work you. Your content with your business friendly services and packages should be front and center on these sites.
Thoughtful Basic Inn Essentials
Desk with comfortable chair.
Power consoles, not only in the guest rooms but in public spaces.
Free WIFi throughout the inn.
Flexible check in and check-out times
Flexible cancellation policy.
Early breakfast. Could be an easier smaller version of your full breakfast, even something they can take with them.
Coffee/Tea service 24 hours.
Use of a microwave and refrigerator.
Online booking.
Special midweek business traveller rates.
Offer an all-inclusive price for your meeting space package, if applicable, that could include lunch brought in or made on sight, don't forget your signature dessert that will make them smile and remember you!
Flat screen TV with DVD player
Suggested Added Value Extras:
Newspaper delivered to their door.
Snacks for the evening, with some healthy choices, like fresh fruit. Something welcoming after a long day!
Frequent stay reward program
Access to fitness center. Partner with the center so you can offer your guest a discount drop in fee.
CD/MP3 player
Call ahead and on- going concierge service. Call your guest ahead of their stay and arrange for any service (i.e. overnight delivery service, transportation) and/or reservations for dinner/lunch. Also provide links to these services so they can make their own travel plans.
Fax and Copy machine available.
Safe or safe deposit boxes available.
Sleep-Mate ambient "white noise' machines.
Create a 'meeting tool box' filled with markers, scissors, stapler, and calculator. Even if you don't have a meeting room this could be a great help for the single business person.
Pillow menu.
Use of a common room/dining room for small conferences and meetings. A comfortable atmosphere for these small meetings is a wonderful alternative to the sterile plastic coated hotel conference rooms.
Look at your common spaces. Are they inviting and comfortable? Are the seating areas well lit? There is a reason why hotels and some B&B's are creating areas that resemble 'lounges'. This doesn't mean you have to go 'uber hotel chic' and serve cosmos, just inviting with seating areas arranged to encourage socialization. I also read in the recent article about attracting the millennial customer that this age group prefers solializing and working in the lobby of hotels rather than in their rooms. They call this 'isolated togetherness'.
The other kind of 'togetherness' is still just as important, the fireplace lit whirlpool tub, champagne and choclate dipped strawberries combo.  Those travelling salesmen/women like romance too! (When they come back for a week-end getaway.)